Charlene Ralph
Fine Art Portraying The Muscular Human Form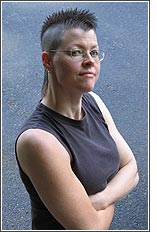 In the beginning...
I have been drawing and painting for as long as I can remember. It is as natural to me as swimming is to a fish or as flying is to a bird. When I was in grade school I was always doodling on my folders, drawing cartoon characters and cartoony kind of muscle guys. I loved the look of super hero images such as Batman and Superman. My favorite character is Wolverine from Marvel comics X-Men. I created an oil painting of him that you can look at in the Gallery.
The Bodybuilding Bug Bites...
I picked up my first muscle magazine around 1980, because I wanted to draw bodybuilders and make my drawings as photo realistic as possible. The one I am proudest of, so far, is a drawing of Nasser El Sonbaty which is in the Gallery. I also had an interest in weight training and wanted to learn how to train. I have been training since then, and have learned that the most important thing in bodybuilding is long term consistency. I have only been consistently doing the right things for about a year and have recently made some of my heaviest lifts. When I started training, my arms were 10 inches around and now they are almost 13, but most of that progress has been in about the last year or so. Even though I don't look much like a bodybuilder, I feel like one and train like a maniac.
Click on the image to enlarge
Into the Future...
Up until recently, I have only done artwork as a hobby, but now I mean business. My intent is to continue perfecting my abilities as I render pencil drawings of huge, ripped and vascular bodybuilders. These will then be reproduced into limited edition art prints. As you can see on the Art Prints page I currently have two editions of prints available. The next drawing I will reproduce is likely to be the one you see on the Home page.
A branch from the family tree...
A bit more about me: I am 44 years old (as of April, 2006) and have been married for 21 years. For the last 18 years I have spent most of my time raising my daughter. I have a twin sister and a brother who is six years older. My mom is 75 and began weight training about four years ago. She sings in the church choir and does a fair amount of baking, most of which is rich dessert items.
I am a born-again Christian, wholly committed to living my life according to what the Bible teaches. I regularly attend a church and do artwork and illustrations for the vacation bible school program and the youth group.
Feel free to contact me with questions or comments or to commission me for artwork.
Website: Builtbodyart.net