Jussi Hamalainen : Art by Casso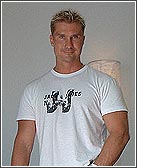 - How did you start your drawing career?
- I have always liked drawing. Someone has once even said that I have born with a pencil in my hand, because in general, drawing is very easy to me. It has always come naturally with me, without any stress or frustration. First memories I have of me drawing were when I was sitting on the living room floor at the age of six with great amount of pencils and brushes in front of me, and a paper filled with lines and circles. From then on, drawing has acted more serious part on my life. At the age of eleven I joined to drawing school along with few of my friends. It was the drawing school where I got the grounds on how-to-draw, and also I came familiar with different kinds of drawing equipment. We studied on how to draw live models, sceneries and various kinds of portraits. On that school I spent four years of my life studying the fine art of drawing.
Click on the image to enlarge
- How did the gym and training come in the picture?
- At the age of 15 I came up with another greatly beloved and welcomed aspect to my life, training at the gym. That, as well as drawing, has not vanished from my life during the years, and I doubt it ever will. I noticed at once that I enjoyed the sport very much. Naturally I made mistakes at the beginning, as will every rookie when they take up this sport - I trained at first seven days a week, two and a half hours in one session. That, on the other hand, reflects my enthusiasm what I had to the sport. As time passed, along with great deal of other mistakes and hours which were spent on reading the training book and magazines, I reduced my training to three to four days a week while the same time reducing the time I spent in the gym at one session. All these changes have of course brought results, and also made my training more reasonable. I doubt anyone would have the interest in training seven days a week, two and a half hours in one session, for a dozen years… I have also added more sporting activities along with my training in the gym (ice hockey, running, swimming, football…) during the years to improve my aerobic condition, and also because my other profession requires excellent physical condition. I graduated as a firefighter / paramedic in the spring 2000, and since then it has been my second profession which I enjoy doing great deal.
My training split goes as follows:
1. Day : pectorals, triceps, upper abs
2. Day : back, lower abs
3. Day : shoulders, biceps, linear abs
4. Day : thighs, thigh biceps, calves
I have split my training also to a hard week (5-7 reps), basic condition week (8-10 reps) and 'easy' week, where i will concentrate on my recuperation (15 reps), and will not use so much weight on the sets. I will use basic movements on my hard week (presses, squats, dead lifts etc.), and i will take the other movements (shoulder raises, flyes etc.) to the training on the basic week and recuperative week. I will take the sets to the limit on hard weeks, and will do more of a pumping way of training on recuperative week. Of course, i will stay focused on doing the movements correctly - I have had my share of hurting myself while cheating on movements at the early days on my training. My training time on the gym stays on a scale of 50 minutes to 1 hour 15 minutes. If I did more, i wouldn't be focusing enough. Of course, that time does not conclude warming and stretching up.
- Where did the interest come in doing portraits of bodybuilders and fitness competitors?
- During the countless years with my own training in the gym my interest in drawing has directed strongly into "bodyart", which means doing portraits to competitive bodybuilders and fitness professionals, based on their photographs from competition or striking a pose. Of course my interest in all the other aspects of drawing has maintained too, but I have noticed myself doing more and more artistic illustrations of these kind. I have noticed that the never-ending play of lights and shadows has gotten me more and more into its charm, and also I have noticed, that lights and shadows work really well with especially these kinds of illustrations.
- How do you work?
- Every time, when I have finished an illustration, I cease for a moment and start to wonder that did all those lights and shadows really come through that pen, which my own hand is holding? That is actually one of the best prices, what drawing gives to me. It is naturally great to hear nice comments and get appreciation from people, along with the work orders - but the very best thing about doing these illustrations is to find myself to be amazed of the end result, over and over again. Each finished illustration I do, has to be just like that - it has to amaze me, or otherwise I cannot release it forward. I am in a way a perfectionist - and in my opinion everyone, who orders an illustration from me, has to have the same feeling which I have, when I look the finished work. That is also another one of the best prices I could get - it is a great feeling to release the illustration forward, knowing that the customer will have exactly the same feeling what I myself just had, when I looked the finished illustration.
- You do your artwork from photographs. Please, tell us more about it
- I do my work with various forms of lead pencils. I use considerable amount of time ensuring that the finished illustration will have the same details, which were on the original photograph. Otherwise it wouldn't make any sense for a competitive bodybuilder or fitness professional to send me a photograph to be turned into illustration, if the finished illustration wouldn't show the same cut and vascular muscles which are on the original photograph. The athlete has used him/herself considerable amount of time on getting him/herself into such a great condition, that I am obligated to make my illustrations great too. This is the general idea of my work - they look amazingly alive.
My work is based on a photographs, or other pictures a customer would like for me to turn into illustration. It would be good to have the originals black & white, since my illustrations are made of lead pen, and are thus black & white. Also black & white originals show the lights and vascularity much better than colored photographs. Of course, if a customer would like for me to use some color on them, it would be done - although I recommend my illustrations black & white, because I have noticed that the contrast will be shown much better that way. I have been in contact with many bodybuilders, fitness pros, photographers and bodybuilding magazines around the world, and it has been my pleasure to notice that the response has been very welcoming and warm. This kind of service has not really been available in the world, where someone would draw you an illustration based on a photograph you yourself have given him - and that the finished work would really meet your expectations you had of it. Well, I can gladly tell you that now there is.
Jussi Hamalainen - Artbycasso.com