Supernatural Bodybuilding and Fitness Organization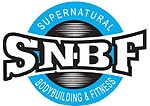 The Supernatural Bodybuilding and Fitness Organization (S.N.B.F) was founded in 1996 and is a "100% Drug Free" Organization. It was primarily organized to give all natural (drug free) bodybuilding and figure athletes a fair place to compete. There will be no favoritism shown to any athlete at any SNBF Sanction Event. All judges have a background in the fitness industry ranging from natural bodybuilders, doctors (chiropractic and medical), fitness competitors, aerobic instructors, personal trainers, and a variety of ex-professional athletes and many more. The judges are selected several months prior to each show, but are not revealed until the day of the event. The SNBF was designed for Supernatural Athletes, so the best athlete on that day will be rewarded in each class.
All Pro Competitors with a valid and current Pro Card from a Drug Free Organization are eligible to compete in the SNBF PRO / Amateur SHOW after they passes a 5 year drug test in May and/or November of each year. All Open and Novice competitors are also welcome to compete in this event. Prizes and sponsorship will be awarded at each SNBF Event and Cash will be awarded to the top 5 places in the PRO Division of the PRO / Amateur Show. All athletes are required to take and pass a 5 year drug test, purchase the SNBF Organization Card (valid through December of each year) and pay the contest entry fee for each competition.
A SUPERNATURAL athlete is the pioneer of all sports. The Supernatural Bodybuilding and Fitness Organization (SNBF) was created for Supernatural Athletes. The most important requirement is to be 5 years to lifetime, totally "Drug-Free". Every competitor is required to take and pass a 5 year polygraph and / or urinalysis test. Supernatural athletes are a special breed. We are not saying that because you have tried using drugs you're automatically disqualified. A supernatural athlete is a very determined and strong individual who finds power from within to over come all hurdles. Anyone who has been drug-free all their life and those individuals who have experienced drugs longer than 5 years ago and are now living a drug-free lifestyle are "Supernatural Athletes."
Bruce Johnson
President
S.N.B.F. Inc.