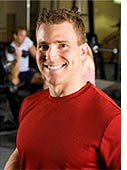 Steven Gwillim
Steve Gwillim is the founder of R.I.P.P.E.D Weight Training™, the ultimate muscle building program.
Before founding R.I.P.P.E.D Weight Training™ Steve had a passion for bodybuilding and nutrition ever since he was 15, involved in numerous sports such as soccer, hockey and lacrosse.
Steve then got more involved in weight training and got his NFTP Weight Training Specialist certification as a personal trainer and worked as one in his home town of Burnaby British. Steve have also worked with numerous people including the University of Utah Athletics department and Muscular Dynamics professor Gabriel E Sella. So there was a lot more people involved than just Steve for the R.I.P.P.E.D Weight Training™ system he wouldn't of been able to do it without the resources he was provided with for teseting and researching purposes.

Steve's unique approach—mental and psychological as well as physical—was developed over years of study on the human physique; he claims not to be an innovator, but a synthesizer of successful elements from many sources.
He has also written many articles and is known as a go-to guy in the field of weight training.
You can check out the R.I.P.P.E.D. Weight Training system at RippedWeightTraining.com
R.I.P.P.E.D. Weight Training System
The ultimate Muscle Building program. The Most Complete - Most Effective - "Take-You-By-The-Hand-And-Show-You-How" Package. Extensive R.I.P.P.E.D Exercise Execution Video Clips. 72 Weeks Of Multi-Stage R.I.P.P.E.D. Routine Guidelines. Lifetime Updates.
Articles
Your Aren't Going To Grow Muscle Unless You Give Your Muscles What They Need To Grow
Your Strength Training Routine and Proportionality - What You Need To Know
The Truth And Simplicity Behind High Intensity Training
What's Wrong With Your Weight Training Program? - Check These 5 Things