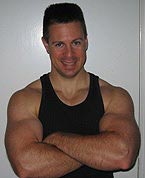 Marc David
Marc David is an innovative fitness enthusiast and the creator of the NoBull Bodybuilding System
He can show you how to reduce your body fat thru diet, how to gain weight or create more muscle thru an abundance of workout tips by training LESS, not more!
Once a self-confessed skinny, "135-pound weakling." Today Marc is a 200 pound bodybuilder who teaches thousands of people to gain weight, build muscle and reduce body fat with a workout and nutrition system so simple that even a complete beginner can understand it!
Marc dispels many "bodybuilding myths", tells you what most people never realize about nutrition, and what the drug companies DON'T WANT YOU to know. Visit nobullbodybuilding.com
NoBull Bodybuilding
Learn the Secrets of Fitness and Diet Experts and start your transformation today!  Build Muscle, Burn Fat and see results in less than 30 days! More Muscle, more Strength, and less Fat. Even if you're a complete beginner with no training, no dieting and no Bodybuilding Knowledge Or Experience!
Articles
6 Weight Gain Tips Without Getting Fat - Quick tips to start gaining healthy weight
The Best Way I Know To Lose Stubborn Belly Fat - Everyone wants to know how to lose fat around their abs, well, here's how I do it...
7 Simple Steps To Beginning Bodybuilding - These powerful yet simple steps are the fundamentals to any good fitness program