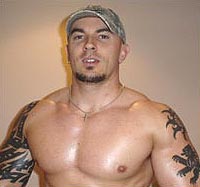 Jason Ferruggia
Jason Ferruggia is a highly sought after, world renowned strength & conditioning specialist and muscle building expert. Over the last 15 years he has personally trained more than 700 athletes from over 90 different NCAA, NFL, NHL and MLB organizations. He has also worked extensively with firefighters, police officers, military personnel, Hollywood stars and entertainers. Most importantly, Jason has helped over 53,000 skinny guys and hard gainers in 126 different countries build muscle and gain weight faster than they every thought possible.
Jason is known as "the secret weapon" by many of his clients (who pay up to $350 per hour for his services) for his unmatched ability to deliver awe inspiring results faster than anyone else in the business.
Jason is the chief training adviser for Men's Fitness magazine where he also has his own monthly column called The Hard-Gainer. He has authored over 500 articles for various other fitness related websites and magazines such as Men's Health, Maximum Fitness, MMA SportsMag, Today's Man, Exercise & Health, Muscle and Fitness Hers, and Shape.
A regular lecturer and media consultant, Jason has given seminars all over the country on the subject of fitness and performance enhancement, and his cutting edge training techniques have been featured on over 30 radio and TV stations such as CBS, ESPN, FOX, ABC, 1010 Wins: New York, America Tonight and many others.
Fifteen years of extensive research, in-the-trenches experience and the ability to consistently deliver unsurpassed results have earned Jason Ferruggia a reputation as one of the top muscle building experts in the world today. With his Muscle Gaining Secrets now being available to the public, you can finally experience the rapid muscle growth that everyone is talking about and you have always dreamed of.

Muscle Gaining Secrets
Why 95% of all Hardgainers are Dead Wrong in how they train for Massive Muscle Growth... And how you can eliminate these devastating mistakes, and instantly force your body into Anabolic Overdrive leaving it no other choice but to pack on Rock Hard, Shredded Muscle as fast as humanly possible!
Articles
Weight Training Exercises to Avoid if You Want to Build Muscle Fast - When it comes to constructing the ultimate weight training program to build muscle, exercise selection is a very important component.
How to Build an Impressive Chest - I have heard that the bench press is a crappy chest exercise. Is this true? If it sucks, what's better?
How to Build Big, Powerful Shoulders - Two exercises to build big powerful shoulders.
Is a "Pump" Needed to Build Muscle? - Who could ever forget that famous line from Pumping Iron where Arnold said that getting a good pump was better than sex?
Muscle Building Misconceptions - Some of the biggest misconceptions and excuses that exist when it comes to muscle building.
Using the 5x5 System to Build Muscle - The 5x5 system is one of the oldest muscle building programs in the book and has stuck around forever.
How to Build Big Traps - Deadlifts and Olympic lifts should always be your first answer to the question of how to build big traps.
How to Build Big Calves - After much experimentation, what I finally realized was that high volume works great for calves.