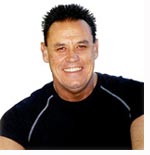 Gary Matthews
As the official online trainer, Gary Matthews brings over 20 years of experience in the Health and Fitness Industry.
Gary's professional career began in the Royal Australian Air Force where he was employed as a Fitness Instructor. His duties consisted of training recruits in various disciplines including strength training and conditioning techniques.
Gary has continued to build upon his gym instruction and personal training experience throughout his entire career. By developing client routines and noting their frustrations with time intensive training regimes, it became apparent that the more people train, the slower their respond to the training. Gary steered away from volume training and developed a fitness technique that requires people to be in the gym for only 20 minutes a week.
When Gary introduced this element into his clients' fitness routines, they began to make rapid progress while increasing functional muscle and dramatically decreased body fat levels. When Gary further combined this technique with a more nutritional diet, total transformations were achieved in as few as ten weeks.
Articles
Weight Gain Myths - Don't believe everything you hear in the gym when it comes to exercise and weight gain, do the research yourself.
How To Use Rest To Gain More Muscle
Using Supplements For Your Weight Loss - the knowledge to burn more body fat and have more energy for the things you want to do.