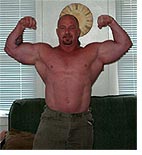 Author L. Rea
Over 20 years ago, Author L. Rea began his quest to become a Medical Doctor specializing in sports medicine.
At 5'7" and 135lbs he was an avid competitive bodybuilder and martial artist absolutely sure of his goal, but along the way three things happened:
He discovered that human performance enhancement is unacceptable to most medical organizations.
He became a bodybuilder weighing well over 250lbs.
He chose to pursue a living by pursuing his passion - He builds Beasts!
Author L. Rea writes for Body Building and Strength Magazines throughout the world, and is the author of books and articles that are published worldwide in many different languages.
Mr. Rea has long been considered THE authority on anabolic pharmacology in Europe, and his work is now available for the first time in the US. To say that his first work, Chemical Muscle Enhancement, is a quantum leap forward in the study of anabolic pharmacology would be an understatement. Chemical Muscle Enhancement (CME) is the equivalent of a bodybuilders "Physician's Desk Reference". Not only does CME profile hundreds of bodybuilding pharmaceuticals, many of which have never been discussed before, it does so in a fashion that has application to the greenest neophyte to the hardcore seasoned bodybuilding veteran. This is not a steroid picture pop-up book, but an in depth study in bodybuilding biochemistry.
After reading CME, one walks away with the knowledge of not only how and why various bodybuilding drugs work in the body, but how to use them in the safest manner possible as well. From beginner to advanced, adult man or woman, this is the must have book for the chemically enhanced athlete who wants to realize every ounce of new muscle mass possible.
Articles
The Chemical Concepts of Bodybuilding
Prohormones, Prosteroids and Designer Steroids