Fountain of Youth
By Gordon Borges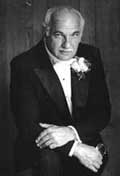 Work out long enough and you'll find your training schedule takes one on the chin every now and then. Whether because of boredom, injuries or a lack of motivation, keeping to a consistent routine over the long haul is tough. Just ask Gordon Borges.
The 75-year-old Borges has worked out consistently for 58 years, through seven children, 14 grandchildren and two years of Naval Service during world War II. Today he is reaping the benefits of he's lifelong commitment to fitness. By checking his stats, it's clear that Borges has found a successful formula:
Weight - 209 pounds, Height - 5' 9 1/2 inches, Body Fat - 14 %, Biceps - 18 1/2 inches,Chest - 47 1/2 inches, Neck - 17 1/2 inches
Borges will be the first to tell you that what works for one person may not work for another. Some of the most important ingredients in his fitness recipe are universal:
1)Stretching before you train.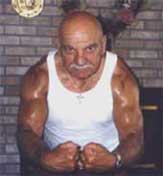 This is essential to good health. Borges spends three to five minutes on an exercise bike and three to five minutes of stretching before every workout.
2) Weight training is indispensable to the way Borges feels today.
What he enjoys most is his ease of movement such as: getting out of a chair without a hitch, dancing the night through and taking brisk walks. These are basic abilities that we take for granted but they leave us with the passing of time.
3) Train in 'MODERATION'
Many beginners go into the gym wanting to know how much weight they can lift and end up hurting themselves. With Borges, weight training has been a way to maintain his good health and appearance over the years. Borges has never been a competitive bodybuilder or weight lifter, but he has been conscious of his bodies development.
4) Don't hesitate to switch your workout
If the body is not aware of what's coming the surprise seems to help the muscles grow.
5) Allow your instincts to dictate what you do within the frame work of your workout.
In the past Borges documented everything and adhered to it religiously. Now it's a seat-of-the-pants kind of thing. Reacting instinctively helps to keep him engaged.
6) Keep the length of your workout between 40 to 60 minutes.
The key is not to overdo it. Borges has been known to go gung-ho if he has a specific goal in mind. If you go all out all the time, you can burn out.
7) Take one or two days off helps to rejuvenate you mentally and physically.
8) Weight Train for three or four days a week.
A 48 hour respite allows adequate time for the muscles to recover.
9) Free Weights are Borges' preference.
This is not to say he hasn't used weight machines. He gets better angles to fully develop various muscle groups by using Free Weights.
10) Proper form on all exercises is essential
To Borges this is one of the most important aspects of a workout. Go through the full range of motion on all movements.
11) If you are not motivated, you're not going to train well.
Borges has not found it easy to stay motivated over the last 58 years. You have to have discipline and enthusiasm for what you want to achieve.
12) It's never too late to start at any age !!
Gordon's website at: Mrfitness101.tripod.com