Boudewijn Simons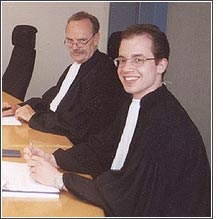 Name: Boudewijn Alexander Simons
Nickname: 'B-Wine'
Date of birth: December 24th, 1977
Birthplace: Maastricht, the Netherlands
Education: Dutch Law at the Faculty of Law of the Maastricht University; TogaMaster Maastricht (an advanced Master's program at the same university)
Hobby's: Drawing; reading; watching movies; surfing on the Internet; playing video games; fitness/bodybuilding and sportwalking.
I'm a completely self-thought amateur artist. I've studied Dutch law at the Maastricht University in the Netherlands, where I live.
I currently work as a legal adviser, but I soon want to be a parttime comicbook artist, too. In the past I've made a few comic pages for The Walt Disney Company. You can find them on my website B-winedesign.com.
I like to draw bodybuilders, because I've been into bodybuilding myself since I was fourteen, fifteen years old.

My favorite bodybuilders are Arnold Schwarzenegger (the main reason why I started bodybuilding in the first place), the late Mike Mentzer (the reason why I'm still interested in bodybuilding today) and Dorian Yates (who introduced me to Mike Mentzer). I love Mike's Heavy Duty, High-Intensity Training (HIT) approach to bodybuilding!
Click on the image to enlarge
Boudewijn Simons - B-winedesign.com